NRC operates long distance express passenger train services. This also include express trains from Lagos to Ibadan, Abuja to Kaduna and Warri to Itakpe. These services offer full air conditioning to the 1st class and other classes with restaurant cars equipped with conveniences. There are also standard class-coaches with adequate head room/ luggage racks and parcels' vans on courier service. These trains traverse into the interiors of Nigeria's vast green lands through the savannah, exposing the scenic beauty of the country.
Passenger Train Kitchen Area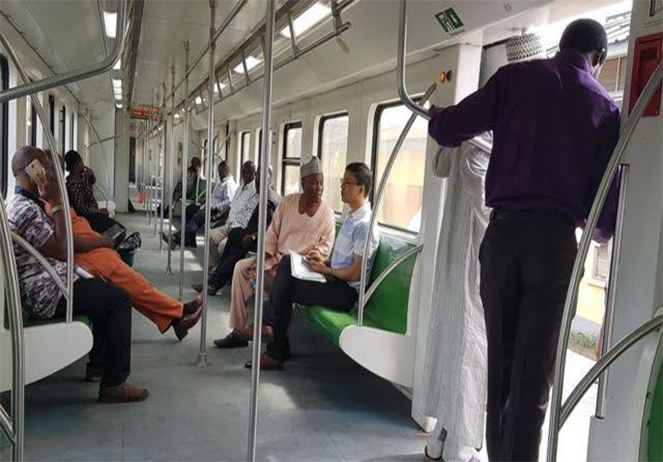 TERMS AND CONDITIONS FOR USING OUR TRAIN SERVICES
THINGS TO NOTE WHEN YOU CHOOSE TO USE OUR SERVICES:
· You can only buy a ticket after the show of a valid
identity card.
· Each ticket has a seat number allocated to it.
Please, adhere strictly to these numbers when on
board the train.
· Tickets are non – refundable and viable for only
one journey. It is an offence to recycle the use of a
ticket.
· Children under 3years of age would ride free and
are not entitled to a seat.
· You cannot upgrade yourself from a category of
coach to another at any time during a journey.
Please remain in the coach and seat that has been
allocated to you.
· Upon request for presentation of ticket by NRC
officials, please comply accordingly.
· Please, keep your tickets safely until the end of
your journey. Anyone with claims of loss of ticket
will be treated as a passenger without a valid
ticket.
· Boarding the train without a valid ticket attracts a
fine, which is double the original value of the
occupied seat.
· Trading of any sort is prohibited while on board
the train.
· Fighting and alcohol consumption while on board
is strongly prohibited.
· Please note that all coaches are fully air-
conditioned. You may need to wear thick clothing
to protect you from the cold.
·
GOODS NOT ALLOWED ON THE TRAIN
· No luggage above 25kg
· No perishable /stainable items
· No filming without authorization
· No hawking / preaching
· No combustible materials
· No arms / sharp objects
· Bicycles/motorcycles are not allowed
· No smoking / alcohol / pornographic materials
· No dead / live animals.
Note: Additional items may be prohibited by the Nigeria Railway Corporation as a result of risk assessment conducted.
· Military or Para-Military personnel who need to travel with their arms must submit it to the NRC Police Command for safe keeping.